This week's Finish the Sentence Friday prompt is . . . . .
The best and worst parts of blogging are. . . .
First of all, you need a little history. I started this blog completely on a whim in February 2010. I had no idea what I was doing! In that past three years however, I have learned so much. I have learned that there is a whole blogosphere out there full of other bloggers. A good portion of them are mommy bloggers and I feel extremely privileged to have had the opportunity to connect with them. I hope that, someday, I will have the opportunity to meet some of them in person at a conference, on a trip, or just for coffee if we're close enough. I have also learned a ton about technical "stuff." I have never been a computer guru and I still am not by any means. However, I have learned a little bit about code. I have figured out how to set up this blog and add all those little things on the sidebar over there. I have also learned the ins and outs of Social Media (I'm still learning a lot in this realm). All of this makes me feel pretty good about my ability to figure things out!
So what are the BEST things about blogging?
1) Writing- I have always loved to write and that is the primary reason I started blogging. I had a story to tell; a story I wanted to put down on "paper" and share. I still enjoy writing and love to get the "pat on the back" when someone says that something I wrote made them smile, or laugh, or cry, or just feel better about their day.
2) Connections- I alluded to this above. I have several virtual friends that I have made through blogging. Motherhood can be lonely and "meeting" other mom bloggers who are experiencing the same struggles or the same joys makes me feel a little less lonely. It helps to know that other moms make mistakes, too. It is a place where I can get advice from moms who have more experience than me and where I can share my suggestions with others. When I first started, I didn't know these connections were out there. I'm so glad I found them. Now, they are one of the main reasons I keep blogging.
3) Memories- When I started this blog, my main goal was to have all my posts printed and bound someday into a book I could give to my three daughters. I wanted them to have a record of all our memories. I also want them to have something to look back on when they are mommies and know that they are not alone. I want them to have a glimpse into what my life as a mother was like and be able to take some comfort or wisdom from the struggles and joys I went through with them.

4) It's mine - As moms, we spend so much time doing for others. This blog is one thing I do for my own enjoyment. Eventually, my daughters will appreciate having it to look back on (I hope). But right now, it is mostly for me. It is something I am figuring out and accomplishing all by myself without asking my tech savvy hubby. It is something that brings me recognition for my own achievements, rather than just because I'm _____'s mom or wife. When I introduce myself, I usually give my name followed by I'm her mom or I'm his wife or I'm her daughter or I'm their sisiter/sister-in-law. Not when it comes to the blog, though. Then I can say I wrote that, I designed that, or I am a blogger.
And the worst things about blogging?
1) Stress and Pressure - A few months ago, I decided to stop sitting around waiting for someone to notice my blog and I started actively promoting it. I amped up my Facebook presence. I joined Twitter. I started jumping in on every blog hop I could find. I put pressure on myself to write better and write more. Now, all that self-promoting has led to lots more of those wonderful connections which I love. It has also created a lot more stress for me, though. When I co-host hops or participate in ones like this one, I actually have deadlines and obligations that need to be fulfilled (and three kids who are at home for the summer and do not understand these "deadlines.") I know more people are reading my writing, so I want it to be awesome every time. I said I never wanted this blog to become something else on my to-do list. I wanted it to be something that brought me joy, not something else that adds to my stress. Sadly, it has become exactly that to a certain degree.
2) Jealousy - I admit I have a jealous bone. I see blogs that have become super popular, bloggers that have hundreds of Facebook followers or thousands of Twitter followers and that little green monster sits himself right on my shoulder, whispering sweet nothings in my ear and planting seeds of self-doubt. Why don't I have that many followers?? I must not be as good as her. Maybe I should try to be funnier. Maybe I should try to be more inspirational. Confidence has never been my strong suit. Sometimes this blog provides a boost that I desperately need. Other times, it sucks a chunk of confidence right out of me.
3) Internet Safety- I have heard horror stories from bloggers who posted pictures of their children only to have them stolen. Just last week, another blogger had her entire blog copied. Others have had their blogs hacked and/or erased. The thought of all that is pretty scary. I have done all I know how to do to protect myself, my family, and my blog, but, the truth is, I can only do so much. There will always be people out there with evil spirits and far more computer knowledge than me. I choose not to let them dictate what I do with my blog, but the fear is always there in the back of my mind.

4) Blogger's Guilt - Back to #4 of the best things, I an not accustomed to doing things for myself. Although it feels so great sometimes, it also gives me guilt. Instead of typing a new post, I should be hanging with my kids or spending time with my hubs or doing laundry or cleaning something or . . . . the list goes on. Sometimes it just feels selfish and that makes me feel guilty.
So now it's your turn. If you're a blogger, what are your joys and struggles with blogging?? If you are not a blogger, be honest and tell me what things you like and don't like about my blog in a comment!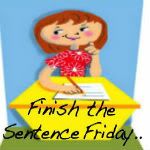 This post was written as part of Finish The Sentence Friday which is hosted by the following bloggers. Please give them a visit and see all the other blogs that participate as well!