It's summer and like most families probably are doing, my kids are watching a little too much TV. But, it was a rough weekend with lots of boredom and bickering that ended up with our girls losing TV and technology privileges all day on Sunday (Gasp!!! The horror, right?!) In the end, though, we all survived the day and ended on a pleasant note with all of us sitting down together for a late supper and everyone actually liking
most
of the meal. So, after that, we gave the TV privileges back before bed time and hubby suggested that we leave the dishes and go join the girls for some family time.
Nowadays, family time in front of the TV is way different from when I was a kid. Last night, family TV meant the Disney channel watching
Dog With a Blog
and
Austin & Ally.
This also occasionally includes
Jesse
and/or
Good Luck Charlie.
However, I draw the line at
Shake It Up.
I watched it with them for less than five minutes and felt dumber for having done so
.
The thing is, half of these show aren't really even about family. There are rarely any parents mentioned or portrayed on half of these shows. The parents on others are often disrespected or made to look ridiculously unintelligent.
The alternative, though?? Network TV these days is all reality TV shows or crime dramas. The sitcoms that do exist are rarely about family and are not appropriate for kids (in my opinion) as they all involve sex or other "adult" humor.
Having three girls, it seems that kids these days go straight from Dora and Doc McStuffins to the teenage dating scene on the Disney shows. There is no in-between for them. So my solution?? Bring back the really good, family focused shows I grew up with. Here's the ten I would most like to see: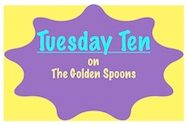 My Ten Favorite Family Shows From Childhood
1.
The Cosby Show
- This has to be #1. We always watched this together as a family and we always laughed. But, I also appreciate the example this show set for families. The parents were the ones in charge and the kids knew it. However, they had fun together; they laughed together. They had "real family" problems like sharing a bathroom or teens sneaking out. Most of all, I loved the creative discipline Cliff and Claire dealt to their children. Remember the episode where Theo wanted his own apartment?? or when Vanessa drinks alcohol underage at a friend's house?? With five kids, there was always something interesting happening in the Huxtable household!
How can you not laugh?!?!?
2.
Home Improvement -
Remember Tim "The Tool Man" Taylor?? This was Tim Allen's original claim to fame. Sure, they kind of made fun of his propensity to blow things up and break things, but the family was the core of the show. The brothers fought. The spouses got frustrated with each other. But, they worked things out together. We can't forget their kooky neighbor, Wilson, either. He was always imparting some philosophical words of wisdom Like Cosby, it was impossible to watch without laughing.
3. Growing Pains - Growing Pains was different at the time because the mother worked outside the home and the dad was psychiatrist who worked from home. Like most family shows, they had one troublemaker kid, Mike (played by Kirk Cameron, who was constantly at odds with his honor student sister, Carol. They had a younger brother, too. In real life, these characters had turmoil, but on the show, they were the quintessential family.
4. Family Ties - Usually we think of parents as being more conservative than their children. That was not the case int his show. Elyse and Steven Keaton were "hippies" who grew up in the 60s. Their ultra-conservative son Alex (Michael J. Fox) was the oldest of three siblings. He had two sisters, Mallory and Jennifer. They had typical family issues including Mallory's boyfriend of whom everyone was skeptical. In one episode, Tom Hanks played Elyse's alcoholic brother. Despite their differing political views, they always supported each other and stuck together.
5. The Wonder Years - This show was centered on Kevin Arnold, who, form his adult perspective, narrated the show. Kevin was the youngest child in the family. He had an older brother, Wayne, and an older sister. His dad had a gruff exterior, but a soft heart underneath. His mom was the homemaker that kept a more positive outlook. Although the show aired in the late 80's-early 90's, it is set int he late 60's. The family is coping with world events like the Vietnam War as well as everyday struggles like getting bad grades in school, friends moving away, and, of course, Kevin's crush, Winnie Cooper. They are the typical American family of the 60's. The show had a good mix of comedy and serious stuff.
6. Full House - This show was about a very non-traditional family arrangement. Upon the death of his wife, Danny Tanner asks his friend Joey and his brother-in-law Jesse to move into his San Francisco home and help him raise his three young daughters. The family, has obviously gone through a difficult time, but friend and family come together to support each other. It is an adjustment for everyone. Although the premise is rather sad and serious, the show was mostly comedy. There is nothing more comical than the idea of a couple bachelors who have no experience with kids learning how to change a diaper and wrangle a toddler!
7. Who's The Boss? - This show has a very unlikely scenario that make for some great comedy. Tony is a retired Major League Baseball Player who, with his daughter, becomes a live-in housekeeper to Angela and her son. Angela is a high powered executive type who is divorced. Although they are not exactly "family," they live together and help each other through life's ups and downs.
8. Family Matters - Of course, this show is best known for its character of Steve Urkel who provided much of the comedy. However, it is actually the Winslow family who is at the center of the plot line. Eddie Winslow is a Chicago police officer who is married to Harriet Winslow and they have three children, Laura, Eddie, and Judy. There is a lot of extended family portrayed in the show as well including Carl's mother who lives with them and Harriet's sister with her young son.
9. Diff'rent Strokes - I actually didn't watch this one all that much, but if you Google "Family sitcoms from the 1980's" it is on every list. It is the story of the rich Mr. Drummond and his daughter who adopt Arnold and Willis, two African American brothers. I do remember that this one was known for tackling some pretty heavy topics including drug use, racism and child abuse. (Probably the reason I didn't watch it much since I was pretty young for some of those topics.) It is, of course, also very famous for it's comedy and the phrase "What you talkin' 'bout Willis?"
10. The Andy Griffith Show - I know this one wasn't from the 1980's, but i watched it in the 80's and the 90's. It was a regular in my house. Talk about good old fashioned values?? This was it. In fact it may be too old fashioned for some people, but it is set in North Carolina and, since I'm a Carolina girl, it is pretty much a classic in my opinion. Again, a non-traditional family with Andy, the widowed sheriff, his son Opie, and Andy's Aunt Bee who lives with them to take care of the cooking, cleaning, etc. Every episode had a "moral to the story' along with plenty of comedy and laughs.
A few others that almost made the list: The Facts of Life, Silver Spoons, Webster, and Charles in Charge.
So what do you think of today's "family" TV shows and what were your favorite shows when you were younger???