I wasn't myself when I looked in the mirror. The person looking back at me seemed like a stranger. She was almost unrecognizable. It had been a little over nine months since I had seen the person I was I was trying to find in that mirror. No matter how hard I looked, she simply wasn't there.
The person I did see was fatter and flabbier than I remembered. She looked tired and her eyes were droopy. Her hair was a mess and she hadn't worn make-up in days. Her clothes were strangely too big and too small all at the same time. In addition to all of that, there was something attached to her; something that seemed almost part of her. I watched this stranger in the mirror as she held this new thing carefully and awkwardly. She seemed acutely aware of it's every breath.
Slowly, I came to realize that the stranger in the mirror was me and that "something attached" was a baby - my first daughter. I had read all the books and thought I was ready. I quickly realized that no book could prepare me for the transformation that was happening. The fact was, I wasn't my old self at all anymore and I never would be again.
I was a new and different version of myself. I wasn't just Lisa anymore. I was no longer just a wife, daughter, sister, teacher.
Now, I was a mother.
As a writer, I know about the power of words. I have read words that made me angry and words that made me cry and words that made me feel joy deep down in my soul. I never realized, though, until then how powerful one single word could be.
Mother.
That word changed everything.
Mother.
It changed my priorities and responsibilities. It certainly changed my schedule. It changed my relationships. It changed my body. It changed my future. It changed every aspect of my existence.
My life wasn't just mine anymore. It was hers. She was my daughter. I was her
mother.
That baby turned eleven a few weeks ago and there are two more now as well. The person I was looking for in the mirror that day when she first came home is now distant memory. When I look in the mirror today, I see someone who is still a little tired and maybe not as slender as I might like. But, I also see a woman who is stronger than my old self ever knew I could be. I see a woman who is prouder of my family than my old self would have ever dreamed possible. I see a woman who is more like my mom than old self would have believed.
When I look in the mirror, I'm not my old self anymore and that's okay. I've changed and grown in ways the old me could never have imagined.
I'm not my old self. I'm different. I'm better. I'm a mom.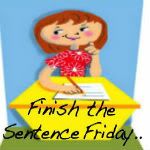 This post was written as part of Finish The Sentence Friday which is hosted by the following bloggers. Please give them a visit and see all the other blogs that participate as well!