I cannot believe today is the first day of April! There were times, between
crazy weather
and crazy schedules, when I thought March would never end. Then, all of a sudden, I blinked and it was gone!!
The calendar doesn't lie, though, and sure enough - it's April. Traditionally, the first day of April is April Fool's Day, so we thought it would be fun to share things that make us laugh for Tuesday Ten. I've never been a huge fan of April Fool's Day because I don't like surprises or practical jokes and I am inherently un-funny. But, I could certainly use a little stress relief and they say that laughter is the best medicine, so her are ten things that always make me laugh!
#1-3 - (Is that cheating?) My three daughters make me laugh. Whether it's ridiculous jokes that don't make any sense, crazy outfits, or silly songs, my girl are some of the best when it comes to making me smile and laugh. See?
(Apparently, the oldest one is much too mature to make silly faces for me to post on my blog. But, she is still funny - sometimes.)
#4 - My hubby makes me laugh. I tend to be a pretty serious person, but, over the years, he has helped me loosen up quite a bit. Although, I'm sure he would say I still have a long way to go.
#5 - Our dog, Sophie makes me laugh. Usually, it's when she does this:
#6 -
Sometimes, TV makes me laugh. They used to make me laugh more because
THESE SHOWS FROM THE 80's
were so much better than today's show, in my opinion. I don't have as much time to watch TV these days, either, but when I do there is almost always a rerun of The Big Bang Theory somewhere and I laugh.
And,
Friends
reruns always make me laugh, too! I mean, really, I dare you not to laugh at the at Joey with a turkey stuck on his head!
#7- Moveis make me laugh. I usually watch romantic comedies or, of course, Disney movies. And, how could you not laugh at Olaf!?!
#8-
Social media makes me laugh. All the cards people post on Facebook and the witty tweets other people share make me chuckle. As I said, I don't consider myself funny, but, once in a while, my kids even give me good social media fodder!
#9 - People make me laugh. Sometimes, it's people posting ridiculousness on social media. Sometimes, it's those "Dumb Criminals" stories. Sometimes, it's other bloggers who post funny stories or parental anecdotes. Sometimes, it's even my real life friends who overreact or share their own blunders. It really all boils down to people.
#10- Exasperation makes me laugh. Sometimes, you just get so frustrated, or angry, or tired, there is just nothing else to do but laugh. It can be a great stress reliever.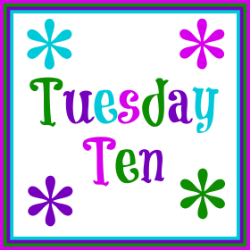 Your Tuesday Ten hostesses are:
We hope you have enjoyed our #TuesdayTen lists! If so, please link up one of your own and share your post using #TuesdayTen!
RULES:
1) Link up a post, old or new, pertaining to the TuesdayTen topic for this week and add our TuesdayTen button to your post or sidebar.
2) Please do not link up contests, product reviews, or sponsored posts. Links not pertaining to the topic will be removed at the hosts' discretion.
3) Visit your hosts and follow them on social media.
4) Visit as many other linked posts as you can and show those bloggers some love by commenting and/or sharing.
5) By linking up you agree to be subscribed to out #TuesdayTen mailing list. Emails are only sent once a week and you can unsubscribe at any time. If you would like to be added to the mailing list without linking up, click
here
.
Come link up again next Tuesday! It will be April Fool's Day, April 1st! We'll be listing things that always make us laugh! :-)
A little housekeeping:
Rabia has set up a web form where you can sign up to receive a weekly reminder about Tuesday Ten including a list of upcoming topics! (We have topics scheduled through June!) If you would like to be added, just click
HERE
.
If you would like an invite to join our #TuesdayTen
Pinterest
board so you can pin your post to it, Let me know in the comments or send me an email. I will need your pinterest url or the email address associated with your pinterest account!