I did it. I swore I wouldn't and I really did try not to. Yet, I'm guilty.
I'm a planner; an organizer. I am NOT a wait until the last minute kind of gal. When I started this One Word Challenge, I debated about how many weeks it should last. Was six enough? Was eight too many? I settled on eight and had full intentions of giving it everything I had. I was going to study the words many days in advance and let them seep into my soul; give them plenty of time to inspire me. I was going to write some wondrously insightful posts a few days before publishing to give myself time to review, edit, and revise.
Weeks 1 through 4, I did it. I followed the plan. Week 5, last week, I slipped a little, but pulled it off. Now, week 6 and I am typing a haphazard piece at 9:30pm, less than 8 hours before it is supposed to go live. Truthfully, if I wasn't the host of this whole shindig, I would most certainly have just bailed out. I hate doing it this way. I know it's not my best writing and I feel like I'm letting my readers down.
So what happened this week? Life.
I talk to my mom on the phone almost every Sunday afternoon/evening and, routinely, she asks me if I'm expecting the upcoming week to be busy. Although I may occasionally mention a kid's field trip or some out of the ordinary obligation like serving jury duty last week, my standard answer is "No, just the usual."
The truth is that "the usual" is indeed busy. A normal, status quo week is filled with rushed mornings, riding lessons, piano lessons, homework, errands that must be run, my part time job, this blog and the associated social media tasks, as well as a husband who frequently travels for work. Throw in a birthday party, various appointments, a extraneous meeting of some kind, or some sort of alteration to the normal agenda and the typical "busy" just gets busier. I don't refer to it as busy, though, because it has simply become routine.
I used to be a scheduler, mapping out entire weeks in advance. Now, I usually take life day by day because, sometimes, it's all I can do to figure out tomorrow much less try to wrap my brain around the days beyond.
So, here in week 6, I have faltered, but don't be confused or surprised. Life is just busy and messy sometimes. When it gets a little too overwhelming, we just have to take a breath, relax, and reset. There are two weeks of this challenge to go and I WILL do it better for those last two weeks. I will plan ahead and I will allow time for the words to create a vision and make space in my schedule for the words to flow.
How are you doing with this challenges or the challenging, busy schedules in your own life?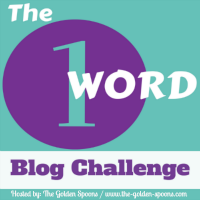 This post was part of the One Word Blog Challenge. The word prompt choices for this week were guilty, tomorrow, and confused.