Last week was spring break for two of my kids and I took the week off work, but my oldest was still in school and my husband was away on a business trip (that wasn't to anywhere worth tagging along). So, we
didn't go anywhere or do anything very exciting. There were plenty of "I'm bored!" utterances and raiding the pantry just to kill time. By Sunday evening, I was actually almost looking forward to Monday, getting back to routines, having things to do, and interacting with other humans besides my kids.
What was I thinking?!?!?!?!?
For real, guys! This has been the longest week E.V.E.R. It really felt like it should have been 5:00pm on Friday by about 2:00pm on Tuesday!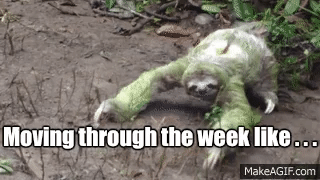 Anybody else feeling this way?
Well, because the week is taking so long, I've been in a weird mood. (Or, perhaps those should be reversed!) I've been a little grumpy, a little annoyed, a little silly, and really tired. In the midst of that weird mood, I read the prompt for this week's Finish the Sentence Friday and immediately thought, "Yes! I'm doing this one!" After all, a little bit of grumbling can be kind of cathartic, right?
So, here's my list of things I hate more than anything this week (and most other weeks, too!).
Math homework. Seriously. There have been more tears in this house over math than pretty much anything else this school year. I never liked math when I was in school and I think I like it even less now that I have kids!
Drama. You might think that with three daughters, I would be used to drama, but the thing is - I don't do drama. My girls are actually pretty low key when it comes to the tween/teen girl theatrics, but, occasionally, they get caught up in the hullabaloo others have created. I have very little patience for those who stir up craziness in order to get attention and even less patience when my daughters get sucked into it.
Group projects. Here's what I would like to propose to all teachers everywhere (I say this with utmost respect, too, because I come from a long line of teachers.) If you feel it necessary to assign group projects, let's first teach the kids how to MANAGE said projects. For example, maybe one student could be a project manager? Maybe we could use the opportunity to teach kids how to DELEGATE tasks and LISTEN to the ideas of others. We could talk about deadlines and respectfulness and responsibility to others. You might think group projects would be less stressful because there are more people to carry the load. However, there is inevitably someone in the group who wants to control things and someone in the group who doesn't carry their weight. In the end, it often creates the drama I mentioned above. I'm honestly not sure who despises group projects more - me or my kids!
Packing lunches - It's near the end of the school year. I'm out of ideas and out of motivation. So over it!
The grocery store might actually be my LEAST favorite place on earth! Yet, the way these kids go through food, I find myself going there quite frequently. They eat all the time, so I have to re-stock the pantry almost daily sometimes.
Trying to lose weight.




Mornings - Two of my three kids are not morning people and neither am I. It's not a good combination.They don't want to get out of bed and I get tired of having to wake them up and hurry them out the door.
Interruptions - Do you know how many times I tried to type this post before I was actually able to finish it? I don't either because I lost count amidst all the interruptions that diverted my attention.

Opening up my blog and realizing how long it's been since I actually wrote and posted something. Then, also realizing that I didn't really miss it all that much. 😩😢 "To everything there is a season" I suppose.

Only being able to think of 9 things for a list that's supposed to have 10!!! So there!
Well, it's finally Friday (after I started this post on Thursday), so I think I can safely say I've made it through the week relatively unscathed. We have seven more weeks until all the kids are out of school for summer - not the I'm counting or anything. I sure hope those weeks don't go by as slowly as this one did!
*****************************
Linking up with
Kristi
&
Kenya
for Finish the Sentence Friday.
Save
Save
Save
Save
Save
Save
Save
Save