Dictionary.com defines tradition as "
the
handing
down
of
statements,
beliefs,
legends,
customs,
information,
etc.,
from
generation
to
generation,
especially
by word
of
mouth
or
by
practice." While
that is a perfectly apt definition, I don't think it does traditions justice. For me, traditions are so much more than that. After all, traditions only become traditions if they are special enough to be done repeatedly, right?
They are special to us (or at least to me) because they connect us to the past and to each other. They are something the participants all do together; something that others have down before and that, hopefully, some will continue to do in the future.
I tend to be rather nostalgic, so I love traditions. I find them comforting and reassuring. They remind me of loved ones and make me feel like I am giving my girls a foundation they can carry on to their families some day.
Here are two of my favorite family traditions.
When I was younger, we (my mom, dad, brother, and me) always went to my MamMaw's house for Thanksgiving lunch. Other family was there as well. For as long as I can remember, my grandmother had these little paper turkeys. Each one had a scripture verse or a line from a hymn on it about being thankful. Before the meal, everyone took a turkey and we went around reading our verses. This is what we did in lieu of a formal prayer. Although my Mammaw passed away several years ago, we still carry on this tradition now when we have Thanksgiving lunch with my parents. The poor paper turkeys were looking a little rough, so my mom has re-written the verses on some beautiful cards. The past couple of years have been extra special because even our youngest children are now old enough to read and fully participate. I love the meaning behind the verses and the reminder they give us to be thankful for our blessings. As everyone reads, I am transported back to my grandmother's house. I can see her face and smell her house. At that moment, I am certain she is there with us.
The second one is a Christmas tradition. I remember my parents doing this with us and, I do it with my children. Every December 24th, we attend the Christmas Eve service at our church. When we get home, we slip into our pajamas. Of course, the children are super excited. They put out milk and cookies for Santa. They are unusually eager for bedtime. Before we tuck them in, however, we pull out our gigantic family Bible - the one that David and I got as a wedding gift. We sit on the couch by the light of the Christmas tree. Snuggling together, I turn to Luke: 2 and read the story of Jesus' birth. I remember as a child climbing up on my dad's lap by the tree when I was growing up and hearing the story. I remember my mom's steady voice reading those verses. As we approach the end of the craziness of holiday shopping and parties and baking, we take that moment to re-center and re-focus on the reason for the season. There's just something about he ambiance of the Christmas lights, the beauty of the story, and the rare calm in those few moments that just fills my heart. I hope it does the same for my girls and that they will, someday, do the same thing with their children.
So, what are some of your favorite holiday traditions??
-----------------------------------------------------------------------------------------------------------------------
This post was written as part of Finish The Sentence Friday. FTSF is hosted by some wonderful blogging ladies. Please give them a visit and check out all the other blogs that participate as well!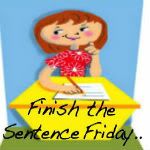 -------------------------------------------------------------------------------------------------------------------------
Don't forget to come back on Dec. 18th and share what you have done to share hope, peace, joy, and love!! For ideas and how it works, click
HERE
.