I enjoy cooking when I have time and when I can find a recipe that the majority of my crew will eat (which is VERY hard to do!). In fact, recipes are one of the main things I look at on Pinterest. I thought for today's Tuesday Ten, I would share some recipes I found on Pinterest that I have tried and some that I would like to try.
Have you tried any Pintertest Recipes?? Got any you want to try soon?? If so, grab a button and link up!!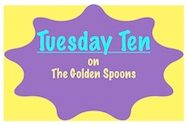 Hey, while you're cruising Pinterest, you can follow me and check out all the recipes I've pinned! Just click
here
!
Next Weeks's Tuesday Ten Topic: Ten Thing I Like About Myself