You know those people who get up at 5am to go to Zumba or spin classes? Or those other people who get up early to journal or blog? Maybe you are familiar with folks who wake up and are immediately happy and ready to face the day.
Well, I am NOT one of those people.
I am soooooo not a morning person! It doesn't matter if I am woken up by the alarm clock, the kids, or the birds chirping cheerily outside my window - getting out of bed is the hardest part of my day. Once I do get up, I like to take my time waking up, although this is not always an option. Ideally I could wake up no earlier than 7:00am and have an hour or so of "quiet time" to drink a cup of coffee while casually checking Facebook. Then, I might not dislike mornings so much. Sadly, of course, mornings like those rarely happen. I know, I know - "Each new day is a new opportunity for happiness;" "The early bird gets the worm" and all that jazz. Well, I don't like worms anyway and I still don't like mornings!
My kids are sleepers, too, which can be a good thing or a very bad thing. Of course, on Saturdays or summer vacation days I like love that they will sleep until 7:00 or 8:00 or even later. Even better? They are old enough now to entertain themselves for a while so I can catch a little extra shuteye.
The problem comes, however, on school mornings. Their alarm clocks NEVER actually wake them up. So, on school mornings, I have to drag my grumpy self out of bed and then go room to room shaking and waking all of them. Most mornings, Megan is pretty cooperative. The other two- not so much. Finally this year, the oldest (5th grade!) would get herself dressed and come downstairs only semi-comatose. The youngest is quite possibly even worse than me. On most school mornings, I literally had to sit her up and forcibly dress her limp body - like something akin to dressing a rag doll.
Since I don't like mornings, I can't really blame them or be upset with them for feeling the same way. Despite that, though, take just a moment to ponder this equation:
1 grumpy mom + 2 grumpy kids + 1 additional sometimes grumpy kid + the typical morning rush = ???
Let's just say it's usually not pretty. Fortunately, we are just ending our first week of summer vacation which means we have many more mornings of sleeping in and NOT waking up grumpy (hopefully) before we have to go back to that dreadful routine!
How about you?? Are you a morning person? Are your kids early risers??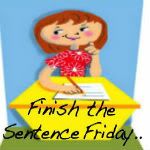 This post was written as part of Finish The Sentence Friday which is hosted by the following bloggers. Please give them a visit and see all the other blogs that participate as well!