When I first got married, I wasn't the greatest cook. My husband was kind enough to endure my kitchen experiments and ate more than a few things he'd rather not have eaten. Over the years however, I got better. I learned more tricks and techniques. I have never considered myself a gourmet chef by any means, but I can hold my own in the kitchen.
Over time, as I was learning to be a better cook, I grew to enjoy cooking, too. I have shelves full of cookbooks and a
Pinterest board
full of recipes. I even have a
page with links to the recipes
I've shared here on my blog. I use to look forward to watching cooking shows on television. Successfully trying a new recipe gave me a sense of achievement. I anticipated seeing the satisfaction the faces of my family when they enjoyed a new entree. It was gratifying when I took a dish to a gathering of some sort and received compliments and requests for the recipe.
I used to love to cook.
But, now?? Now, cooking has lost the allure it once held for me. I have a house full of picky eaters including a meat and potatoes hubby, a vegetarian eleven year old, and a super picky six year old. Add in my eight year old and myself and the only recipe you get is one for disaster. No matter what I cook, there's always somebody who doesn't like it. On top of that, we have busy schedules that make it impossible to casually peruse recipes like I used to do. Even if I do find a recipe I want to try, finding the time to prepare it is nearly impossible. More often than not, I retreat to my standbys - the ones I know I can make quickly and that I know the "Spoons" will eat.
I suppose, if given the time and a willing audience, I would still enjoy cooking. In fact, I was just thinking earlier today that it has been while since I shared a recipe here on the blog. Sadly, though, meal planning, grocery shopping, and cooking have just become another chore, ranking not much higher than doing the laundry, washing the dishes, and mopping the floors.
Perhaps, someday, when my children are older, I will again be able to channel my inner Julia Child and enjoy being in the kitchen the way I used to. Maybe, I'll take the time to find a new recipe to try next week. Or, maybe we'll just eat pasta and tacos - again!
How about you?? Do you enjoy cooking?? What are your "go-to" recipes?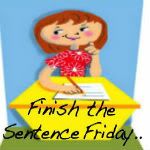 This post was written as part of Finish The Sentence Friday which is hosted by the following bloggers. Please give them a visit and see all the other blogs that participate as well!