Back in September, we celebrated Ask a Stupid Question Day by choosing 10 random questions from this list and answering them in our blog posts for Tuesday Ten. It was so much fun and we had such a great link up that day, we decided to do it again this week!!! Since today, December 9th, is my middle daughter's 10th birthday, I decided that, for my post, I would use the questions to interview her!! She loved the idea and was very willing to participate. She chose the numbers (although, we had to try again on a couple because her original picks weren't very kid-friendly). Here are her answers with a little commentary from me added in.
#1 - Grab the book nearest to you, turn to page 18, and find line 4.
"There was not the slightest doubt about it, it was a penguin." (From Mr. Popper's Penguin's)
Mom Commentary: Megan has never liked to read very much. She much prefers math and, yes, she absolutely gets that from her father! Lately, however, she has been doing much better about reading and I am very proud of her!
#3 - Before you started this survey, what were you doing?
Getting ready to go outside and ride my bike.
Megan is a ball of energy and is rarely found sitting still. She LOVES to go outside and ride her bike even on cold, windy days like today (Sunday).
#93 -
Can you close your eyes and raise your eyebrows?
Yes! -

No commentary needed on this one, but here's a picture to prove it!
#32 -What was the last thing you bought?
Um . . I don't buy things really. You (mom) bought me the book - Mr. Popper's Penguins.
Megan is great at saving her money. We don't give our kids an allowance, but Megan has actually been earning some money for helping with the laundry lately. She also has money from grandparents, etc. but rarely spends it. Hopefully, she will continue that habit as she gets older!
#61 -

What time do you get up?
On school mornings, I get up at 6:30am. On Weekends or days when I don't have school, usually around 7:30am.
My kids are late sleepers which is great on weekends and during summer vacation - not so much on school mornings. Megan has always been the earliest riser, though. She is almost always the first one out of bed on the weekends.
#45 -
What did you do for your last birthday?
For my last birthday, I had a hotel slumber party!!
Since her two sisters both have birthdays in August, they usually do pool parties. Last year, Megan complained that is wasn't fair that she never got to do pool parties because her birthday is in December. My husband came up with the "brilliant" idea to cash in some of his travel points and get a hotel room so she could have a pool party and slumber party. We let Megan invite 3 friends. They swam in the pool, we ordered pizza, had cupcakes, played board games, and it really was lots of fun. This year, we are keeping things a bit more low key.
#83 -
What are your best characteristics?
I am always happy!
I tried to get Megan to list some more, but she said she couldn't think of any. I can! Megan is smart, funny, silly, loving, and she cares about others. She is also a great big sister - she and Emily have great
friendship.
#73 -
What do you do most when you are bored?
When I am bored, I watch TV, but I actually don't get bored very much.
That's very true. As I said, Megan has lots of energy. She is rarely still and the only time she complains about being bored is when she has to be still, like in a waiting room or during church.
#41 -
What time is bed time?
Mom and Dad make me go to bed at 8:30 on school nights. When it's not a school night I can stay up until 9:00. If I got to pick my own bedtime, I would probably go to bed about 9:30.
And, if anyone comes walking down the
hall after all the kids have been put to bed, 9 times out of 10, it's Megan!
#38 -

I
f you could eat lunch with one famous person, who would it be?
You, Mommy! You're a famous blogger!
I told her that just being a blogger doesn't mean I'm famous and she answered,
"Well, you're on Google and in a book. That means you're famous!"
Gosh, I love this kid!!!
Happy, Happy Birthday my sweet Megan!! You keep me on my toes and make me smile every day. You have a good heart and a boundless energy that will take you far in life, I'm sure. I love you bunches and bunches and I hope you have many more happy birthdays!!!
I told her to smile for a birthday pic and this is what I got which pretty much sums up my Megan!!!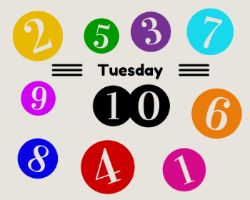 Your Tuesday Ten hostesses are:
To review all the rules, click HERE.
We are still looking for a little help with our birthday giveaway!! If you are interested in giving $5 for some social media exposure, see more information HERE.
Join us next week on December 16 for our last Tuesday ten of the year and tell us what's really on YOUR Christmas list!!!
(Tuesday Ten is taking a holiday vacation on Dec. 23 and 30 so we can enjoy time with our families. We'll be back on January 6 to kick off our Big Birthday Giveaway!!!)