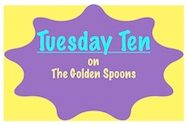 I am usually not all that shy about sharing my mommy mess-ups. I've written about them
here
and
here
. The story of one of my meltdowns has even been
published
here
. After all, we're all human, right? RIGHT???
However, it seems that, since becoming a mother, my goof-ups occur more frequently. I've had a couple of doozies recently. Maybe you saw my
Facebook
status where I admitted ordering groceries online but forgetting to hit "SUBMIT." There was also an incident when my hubby was in a rush to leave our house and get to the airport to catch a flight. I was across town and he called me because he couldn't find his car keys. They were in my purse in the car with me - across town. (Fortunately, I knew where the spare was!) There may also have been a candle that was left burning for a few hours while we were away from home and possibly a blog I scheduled to post but then forgot to publicize because I forgot I had scheduled it. Perhaps, my blunders are simply amplified now because they affect my family. Maybe I just have a lot more to keep track of. Or - here's a theory - maybe motherhood has actually made me dumber! Yep, I'm going with that one! Here are ten ways that motherhood has actually made me dumber:
Mommy Brain - Have you heard of pregnancy brain? Oftentimes, when pregnant, women become more forgetful than usual. However, this phenomenon usually subsides after the baby is born. Or does it?!? I experienced this a bit with my first pregnancy, but it went away pretty unremarkably. I experienced it to a slightly higher degree with my second, but, again, it went away. With my third, it was out of control and I don't think it ever completely subsided!
No knowledge of current events - I pretty much don't watch the news anymore. I don't want to watch it when my children are around because they don't need to be exposed to the violence and the awfulness in the world just yet. I don't watch it when they are not around because it is sad and scary and people are just stupid sometimes. So, if the headline doesn't make it into my Facebook or Twitter feed, chances are I'm not going to know much about it.
Sleep deprivation - According to WebMD, the average adult needs 7 to 8 hours of sleep each night. They also state that not getting enough sleep can lead to memory loss (among other things). Um, you think??? Sleep deprivation begins before a baby is even born with the uncomfortable nature of pregnancy in the final weeks. Then, there are the middle of the night feedings, colicky babies, and teething. It gets better as they get older, but there are still nightmares, stomach bugs, and random aches that wake children and, therefore, parents. Plus, many moms stay up far too late trying to accomplish all the things on our to-do lists. Then, we are up again at the crack of dawn so we can start all over. Motherhood is a perpetual state of sleep deprivation.

Kids' TV and music - Have you ever caught yourself talking like the characters on your child's favorite show?? Ever caught yourself singing "D-D-D-Dora!" or "Call me maybe" in the shower?? This summer, my hubby and I sat down with our girls one evening and watched a few of their favorite shows with them. Afterwards, we actually told each other that we felt dumber after watching them! (That's totally true. It inspired this list of some "old" family TV shows that were so much better.)
Homework - My oldest daughter started middle school this year. Math has never been her strong suit - or mine - but I've tried to help her a few times when my hubby was out of town. I will admit that I googled how to multiply fractions and I had no idea how to help her divide decimals. I'm certain I did all that stuff a long time ago, but when put to the test, I had no clue!
I have a college degree I haven't used in years. - I went to college, got my degree, and actually graduated magna cum laude (or one of those fancy honorary terms). However, I have been a stay at home mom since my oldest was born. Remember, I just told you she's in middle school now. I have not used that degree or gotten a paycheck in more than eleven years!! Now, I realize that staying home was my choice and that it's not the right choice for everyone. I do not regret my decision, but when I think about that degree and all those college classes "going to waste" it does sting just a bit!
I don't read. - I used to, really, but these days I just can't find the time. I hear others mention this book or that novel and I think "I really need to read more," but I never do. I might squeeze in a magazine once in a while and I can recite Green Eggs and Ham verbatim, but I won't even tell you how long it's been since I read an actual novel. (Mostly because I just can't remember. See #1)
Distractions - Do you ever feel like you cannot complete a thought without being interrupted?? If so, you are probably a mom. Heck, most of the time, I can't even go to the bathroom without someone calling for me or just walking in to ask me a question. I think "Oh! I need to go to this" and on my way there, somebody needs me to open a snack or tie their shoe or find something for them. By the time I get where I was going, I forget what I was gong to do. (Again, See #1.) I don't have ADHD; I have kids!
Pinterest - Pinterest is my worst nightmare. It is filled with pictures of all the creative, crafty things other moms have done for their kids' birthdays or school parties or Halloween costumes. IF, I ever torture myself by cruising the site, I find myself repeatedly saying "Why didn't I think of that?!" or "There's no way I could make/do that!" It make me feel inferior inferior in every way.
Clothes - Theres' something about putting on a great outfit - maybe a power suit or a nice cocktail dress - that makes you feel great. You stand a little taller. You feel important, smart, and put-together. I can't really say that about my yoga pants. My motherly wardrobe has become more about function and comfort. I rarely ever put on an outfit these days that says "I am intelligent, motivated woman."
Despite all of these downfalls, motherhood has made me smarter, too. Motherhood has taught me about the things that are REALLY important in life. That's not naps or clothes. It's not even books or paychecks. What's really important is these girls and those smiles:
What's really important is this man and our strong marriage.
What's really important is smiles, and laughter, and memories, and family.
So, how about you? Do you think motherhood has made you dumber or smarter?? Maybe both??