One Halloween I actually had all my Christmas shopping finished early. It was 2004. My oldest daughter was two and I was pregnant with my second child. My due date was December 7 and I knew that, after her arrival, I wouldn't be able to get much shopping done, especially since that was before the days of much online shopping. Also, back then I had much less to buy - only two children and a couple nieces and nephews.
Nowadays, I have three kiddos, eight nieces and nephews, more extended family, and teachers to buy gifts for. My list is considerably longer than it used to be. Every year I vow to get my shopping done early and every year I fail. As of today, I haven't bought one single solitary Christmas gift and have only even started a skeleton of a list.
In an effort to do better and shop earlier, it has become my annual blog tradition to post a list of the toys that are predicted to be the most popular during the upcoming holiday season. Big retailers actually publish their predictions in late September or early October. This year, I compared the lists from Toys R Us, Target,

WalMart

, and Amazon to compile the following list of this year's hottest toys.


This post was written as part of the Finish The Sentence Friday Linkup.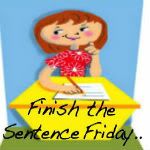 This week's hosts are:
Kristi from Finding Ninee
Dana from Kiss My List
April from 100lb Countdown