As you know, this weekend was Father's Day! There are some fabulous dads in my life including my hubby, my own dad, and my father in law. This week I'm lucky enough to be on vacation with two of them (my hubby and his dad) and planning to spend some quality time with my dad later this summer.
Since I'm on vacation with my family this week, I'm also trying to take a bit of a bloggy break, but I didn't want to leave my lovely co-hostess in the lurch. Luckily for me, I actually wrote two Father's day posts last year that also happened to be Tuesday Ten posts!!! Please click on the links below to check out a little Father's Day goodness from the past!
Got a Father's Day post? Link it up below! All posts welcome - new or old - and they don't have to be a list of ten!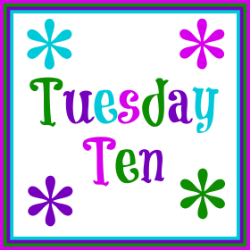 I'm really looking
forward to next week's posts on
Tuesday,
June 24
when we'll be sharing Ten Things I would tell my 16 year old self!! Should be very interesting!