When you hear the word "paradise," do you picture somewhere tropical and sunny?? Do you picture yourself lounging by the ocean with a fruity drink in your hand? Maybe you envision something like this . . . .
And, probably not like this:
However, this was my paradise today (Tuesday). I'm an oddball who like winter and, here in the South, it doesn't take much snow to cause a snow day. We had about half an inch of snow Monday night topped off by half an inch of sleet and that was enough for school to be cancelled. Warnings to be issued to "stay off the roads" and that's justwhat we did. My girls and I slept in and lounged in our pajamas until about 10:00. Then we went out and played in the snow/ice. We ran and laughed and had a blast. After that, we spent the afternoon with each of us doing the things we love most. My oldest daughter (12) spent hours on the couch with her tablet in hand furiously typing away on the novel she is writing. (Like mother, like daughter I suppose.) My two youngest daughters played together all afternoon. I sat with my computer typing this post and catching up on blog reading. The evening will have a slower pace as school has already been cancelled again for tomorrow. There will be lots of snuggle snap maybe even a movie night.
That is my paradise. At home with my family. Listening to my girls laugh. Watching them sleep and kissing their freckled cheeks. Resting my head on David's shoulder, wrapped in his embrace. (Although, he is traveling for work and spent much of his day stuck in an airport trying to get from one city to another. It would be more of a paradise if he could be home with us.)
This week, we will have some of the coldest temperatures our state has seen in years, but our pantry is stocked and our hearts are full. We are safe and warm. It may not be a tropical island with the sun beaming down on my face, but it is paradise to me and there really is no place I would rather be.
Just for fun, here's a little paradise video we made for my hubby. :-)
Tell me, what does paradise mean to you??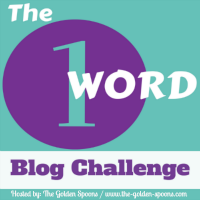 This post was part of the One Word Blog Challenge. This week's prompt choices were Paradise, Alone, and Regret. Next week will be the last week of the 8 week challenge.