This week, I am once again combining Finish the Sentence Friday with Ask Away Friday!
I am super excited to be swapping questions with NJ form A Cookie Before Dinner. NJ is a relatively new blogging
friend. I am terrible with remembering details, but I think I met her through her review of The Mother Of All Meltdowns and through Rabia. Don't you just love the title of her blog?? And her tag line is "a sweet life well lived." Another quote from her - "
I long for a slow and simple life, but realize half of the fun is found in the crazy moments." Don't you just love that, too?? Truthfully, she had me at "Cookie," but I was drawn to her and her blog by her perspective on life as expressed through those quotes. NJ describes herself as a fun seeker and an extrovert. She is also a very supportive blog friend and I am thrilled that I get to meet her at BlogU in less than a month!!!
Now, on with the questions! Here are my answers to the questions NJ sent me (and they were awesome!). To see her answers to my questions, head on on over to her blog.
1. Answer the Finish The Sentence

Friday

prompt... "The Nicest Thing Someone Ever Did For Me Was . . "
That's a tough one! Many of the things that come to mind are things my hubby has done - sending flowers just because, taking me on trips, and, of course, helping to make me a mom! Being a lover of words, it also means a lot when people give me compliments. Lately, people have been praising the work I'm doing at our church (children's sermons, organizing the Easter Egg Hunt) in my new part time job. Those compliments truly mean the world to me!
2. Besides your own story, which essay is your favorite Mother Of All Meltdowns story?
No way I can list just one!!! I loved
Dana

'
s story about her Disney meltdown. I also adored
Ginny Marie
'
s story about threatening to give away all of her daughter's clothes. I felt a connection because I did a very similar thing years ago. I really enjoyed
Marcia
's
Powdered Sugar Fight of 2007
, too. It made me giggle out loud as I could just picture her, her house, and all her kids covered in powered sugar - and trying to explain it to her hubby!
3. What advice do you have to someone who wants to grow their blog beyond a hobby blog?
I wish I had some! At the moment, I am honestly a little frustrated with trying to grow my own blog. After growing slowly but steadily for about a year, I seem to have hit a plateau. So, I guess my advice would be to be patient because there is no magic formula and there will be ups and downs. The posts you think will go viral probably won't. You may think getting a feature on one of those bigger blogs (i.e. Scary Mommy or Huffington post) will instantly catapult you to fame, but it won't. Beyond that, get involved in blogging communities through blog hops and/or Facebook groups. This will help you build a supportive core group of blogging friends who will share your work and stand by you when everything else doesn't seem to be working.
4. What is your favorite social media site? Why do you love it? For me, Instagram is where it is at because I can't tell a story well without both words and pictures.
For the longest time my favorite has been Facebook because it's where I'm comfortable and where I
can
could get the most interaction. Lately, however, as all bloggers know, Facebook has been making it more difficult. For example, I have over 600 followers on
my Facebook page
, but Facebook is showing many of my statuses to less than 100 of them. So, I'm trying to venture out into other platforms like
Twitter
and
Google+
. Twitter is kind of overwhelming because it goes so fast and, in my experience, the only people actively using Google+ are other bloggers. Therefore, my answer to this question is changing and evolving.
5.I know you're a country music lover! What are your top five country music songs of all time?
Wow!! You are really making me dig deep with these questions!! It is hard to pick just five and my answer might change if you ask me again tomorrow, but right now I would say:
Need You Now - Lady Antebellum
Hey, Pretty Girl - Kip Moore
Whiskey Lullaby - Brad Paisley and Allison Krauss
The House That built Me - Miranda Lambert
My Wish - Rascal Flatts
Oh, and I Hope You Dance - Leann Womack. Can't forget that one!
Thanks for that and thanks for asking about Rachel! Her first year of middle school has been great. For the first three weeks, it was smooth sailing. Then, we hit a bumpy patch and there were a few weeks when it got tough. We were all dealing with more projects, more pressure, new schedules, and time management. But, we got through it and it has been back to smooth sailing since November. Rachel is a super smart kid. She is making straight A's at a school for academically gifted students. She seems to have fit in seamlessly and I am so thankful that she has adjusted so easily. Middle school is a different world, though. They definitely don't "hold the hands" of the parents like they do in elementary school and they expect the kids to be self sufficient and responsible.
7. Are there any updates on "CeCe"? What advice would you give to someone who wanted to stand the gap and become a foster parent?
Actually, yes! I won't go into details in respect of her privacy, but I have a friend who, through her job, was able to look into public records. As far as we can tell, CeCe is alive. This was a concern due to her health issues, but no death certificate is on file. (sounds so morbid, huh?) It also appears that she was, in fact, adopted by the family she went to live with when she left us as there was documentation of an official name change. It was such a relief to find this out and I am so happy to know that things worked out as planned. Hopefully, someday, we will make contact again.
Our fostering situation was very unique. I am so glad we did it and, without knowing it, CeCe touched so many people while she was living with us. That said, it was hard. Having not yet been parents when we took her in, we really didn't know what we were in for. Although we always knew it was temporary, letting her go was heartbreaking. Being a foster parent is a wonderful, selfless thing to do, but it is most definitely not for the faint of heart.
8. What does summer look like for your family? Are you traveling or sticking close to home?
We are going to the beach twice this summer. Once in June with my hubby's family. It is a tradition. We rent a big beach house and all hang out together for a week. In July, we will be going to Hilton Head for a few days with one of my good friends and his family. Other than that and Vacation Bible School at our church, we really don't have any definite plans. The girls and I usually go spend about a week with my parents, too, but we not have settled on dates yet. The girls and I would love to tag along on one of hubby's business trips as well, but nothing firmly scheduled at this point. We are lucky to have a pool, so we have lots of friends over and spend lots of lazy days hanging out at home!
9. What is the oldest post you have in your draft folder? Why haven't you published it?
Someone else asked me this one! So fun to look back. The oldest draft I have is from August 2011 and it is "An Update on the Blankie Situation." Earlier that summer, I had posted about trying to break my youngest daughter's attachment to her blankies, which are just cloth diapers, that she has carried around forever. I promised my readers an update at the end of the summer, but never wrote it because there was nothing to update. My efforts failed and I decided that having a blankie wasn't really a big deal anyway. She still has them now - 3 years later - but, only when we are at home.
10. Where do you see your blog going in the next year? What goals do you have for your space?
This is a great question and something I admire about you, NJ, and your blog - you have very definite short and long term goals. It is something I have been thinking a lot about. Like many bloggers, I started out with aspirations of fame and fortune. I had visions of being the next Scary Mommy or Glennon Melton. I quickly realized, though, that was not a realistic goal. I have been trying to re-focus and come up with something more concrete and attainable. I have always wanted my blog to serve as a virtual memory book for my girls. I want them to look back on all my posts and stories when they are mothers and find the kind of comfort and "I'm not the only one" feeling that blogging has afforded me. That is my super, ultimate, long term goal. In the midst of getting there, though, I'm still trying to figure out what I want on a more short term level. Sometimes, (most of the time) I want it to grow and I want to see my numbers (shares, followers, page views) increasing. As I mentioned, though, it has plateaued lately and is making me wish I could find a way to just ignore the numbers completely. In short, the answer to this question is something I am still deciphering.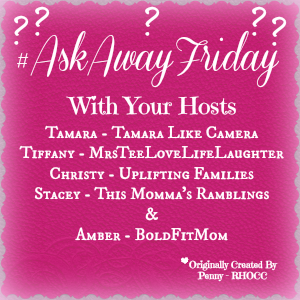 ***************************************************************
This post is part of Finish The Sentence Friday. FTSF is hosted by some wonderful blogging ladies. Please give them a visit and check out all the other blogs that participate as well!