Those who follow my blog regularly may have seen a few posts from the Thirty Things Challenge. Several weeks ago, as I was scrolling through the topics of the challenge considering what to write next, I saw this topic and knew instantly that it would be perfect for our Tuesday Ten Linkup - Ten Things You Would Tell Your 16 year old self.
Have you ever heard Brad Paisley's song "Letter to Me?" In the song he contemplates writing a letter and sending it back in time to himself at 17. Obviously, this topic is kind of the same idea.
If I could choose ten things to say to my teenage self, I think it would be these:
1. I know you hate your psoriasis and I know how much you try to hide it. I know it hurts when people ask about it. I also know that you are tired of hearing that you are beautiful anyway and that it's what's on the inside that really matters. Blah, Blah, Blah. Those nuggets of wisdom don't help at all. So, here's something that might. I want to give you a little hope and tell you that you will meet a guy one day who isn't bothered by it. He will think you are beautiful and he will ask you to marry him. You will not spend your life alone because of your skin. Also, your psoriasis will go away in the future. Not only that, but the thing that makes it go away will be the most beautiful gift you have ever received - your firstborn child.
I know it's awful right now. Believe me, I know. I've been in your shoes, literally. Hold on tight. Don't let it beat you.
2. The world is much bigger than you realize. It's hard, right now, for you to see outside of the small town bubble in which you live, but the world is so much more out there in the world than you can even imagine. There are so many places to see, things to learn, and experiences to have. Embrace it. Explore it every time you get a chance and don't be scared.
3. Here's one that no teenager wants to hear, but Mom and Dad are right far more often than they are wrong. Trust them. They always have your best interest at heart even when you disagree. Someday, you will understand and appreciate it in a way that you simply cannot comprehend right now.
4. Most of your classmates view you as a Little Miss Goody-Two-Shoes. (At least, that's what you think.) Well, you ARE and that's ok. You are not earning the respect/approval of the partygoers, but you are earning the respect of the people that really count. Being part of the "in-crowd" is not all it's cracked up to be anyway - I know. I've seen where they end up in the future.
5. There's a guy you are head over heels for right now, but he won't acknowledge that he feels the same. Because of #4, he is embarrassed to tell his friends about you. Dump him immediately and move on. You are too good for him and he doesn't deserve you anyway. In a few years you will meet someone who treats you like a queen. You will build a life with him and never look back.
6. Your parents give your brother a little more freedom just because he is a boy and I know that seems completely unfair. Remember what I said in #3? I don't want to spoil any surprises, but someday you will understand - I promise.
7. Keep playing sports even when high school is over. You may not be a college scholarship athlete, but it's something you enjoy. Find some leagues or friends to play with. Don't just let it go. You will miss it if you do.
8. Stop worrying so much about what other people think of you because, in the end, it doesn't matter what other people think. What matters is what YOU think of you. You have a lot to offer this world and you will make a difference in the lives of others. Don't waste your energy trying to be something you are not.
9. Learn all you can about technology. This doesn't make much sense to you in 1993, I know. However, take my word for it - technology is about to explode. There will be advances you cannot even fathom at the moment. Don't be afraid of it. Dive in. Learn it. Use it. You will be ahead of the game instead of struggling to keep up.
10. You are a dreamer, always silently wondering what else there is to life and playing out different scenarios in your mind. As you think about what could be, know that (to quote Brad Paisley) "these are nowhere near the best years if your life." It gets better than you could ever imagine!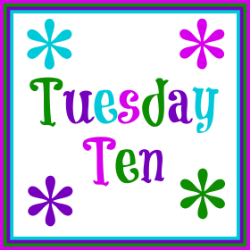 Can you believe that next
Tuesday,
July 1st
?
!?! July is also Naitonal Ice Cream Month, so
w
e'll be sharing out ten favorite ice cream flavors! Yum!