I'm sure you have all seen the Capital One commercials that end with the question "What's in YOUR wallet?" Well, for Tuesday Ten, we have already shared what's in our purses and what's in our cars. We thought, this time, it would be fun to share what's in our kitchens!! We are sharing things that are always in our pantry and/or fridge. If you want to participate, we would love for you to vlog about it, but we welcome your regular posts, too! (By the way, later this summer, we will be sharing lists of things in our closets!!)
So, without further ado, here is my refrigerator vlog! :-)
**Just FYI, I filmed this on Monday and I DID GO TO THE GROCERY STORE later that day. My family is not starving despite the rather empty appearance of my refrigerator in this video.
**Did you figure out that fancy word, oxymoron, yet?? It means "a term in which two words that seem contradictory are use in conjunction with each other," such as wonderfully ugly, or deafening silence, or vegetarian meat. (Hi, mom!!!)
So, what's in YOUR fridge??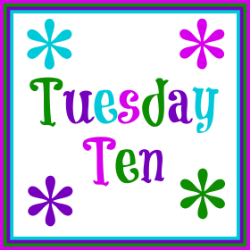 Come link up again
next Tuesday,
June 17
when we'll be sharing Ten Things We Love About The Dads in Our Lives.