Since yesterday was Memorial Day, which is often considered the "official" start of summer, Rabia and I thought it would be fun to share our Summer Bucket lists for today's Tuesday Ten! I made a bucket list last summer. I actually printed it, put it on the refrigerator, and we had fun crossing things off together. I even gave an update at the end of summer sharing all the things we had actually done from the list.
I'm a list maker by nature, so I love doing things like this! The only problem is, my bucket list is longer than ten! There are things on the list I know we will do (i.e. We already have two beach trips planned) and things that will be more challenging (i.e. traveling somewhere new). I hope we can get to them all and that I can give another update later this summer.
What's on your "To Do" list for the summer??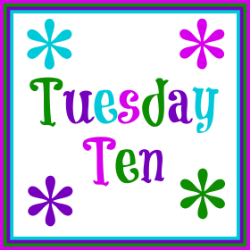 Come link up again
next Tuesday, June 3 when we'll be sharing the songs that are currently stuck in our heads!